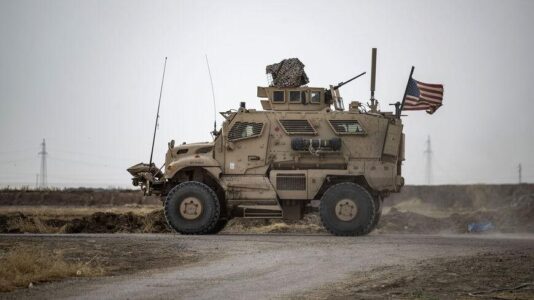 Drone attack hits Tanf US base in Syria
Three one-way attack drones targeted the United States' al-Tanf garrison in southern Syria on Friday morning, injuring two members of a US-backed Syrian militia, the US military said.
Two of the incoming drones were shot down by the US-led coalition, while a third struck the compound at al-Tanf, injuring two members of the Syrian Free Army militia. The injured fighters were given medical attention, US Central Command said in a statement.
No US troops were hurt in the attack on the base, which houses American forces and members of the militia near the country's remote desert border with Jordan and Iraq.
"Attacks of this kind are unacceptable — they place our troops and our partners at risk and jeopardize the fight against ISIS," CENTCOM spokesperson Col. Joe Buccino said in a statement.
Why it matters: Al-Tanf occupies a key crossing on the Baghdad-Damascus highway, thought to be coveted by pro-Syrian regime militias backed by Iran's Islamic Revolutionary Guard Corps.
This one is at least the third drone attack on the base reported by the US military over the past two years. A previous strike last August caused no injuries, but an attack involving five drones in October 2021 damaged barracks and personnel facilities, though US troops were relocated from the area ahead of the strike thanks to prior intelligence. The Pentagon blamed both of the strikes on Iran-backed forces.
No US troops were hurt in Iran-backed attacks in Syria over the past year, the Pentagon's top Middle East policy official Dana Stroul said last week.
No group immediately claimed credit for Friday's attack, and the US military has not publicly assigned blame.
Know more: Israeli fighter aircraft have used the corridor along the Jordan-Syria border and the airspace around al-Tanf to penetrate Syrian airspace for strikes against Iran-backed militias, drawing accusations from the Syrian regime in the past.
Some 900 US troops remain in Syria to track down the remnants of the Islamic State with the help of the Kurdish-led Syrian Democratic Forces in the country's northeast. The Syrian Free Army militia at Tanf, previously known as the Jaysh Maghawir al-Thawra, serves largely to provide security around the site.
Source: al-monitor