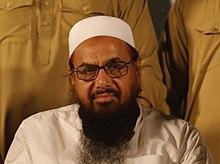 Hafiz Saeed
Terror organization: Lashkar e Taiba
Status: The founder and leader of Lashkar-e Taiba (LeT).
Roll: Saeed participated in the planning of the 4-day-long terrorist assault on Mumbai, India in November 2008 that left 166 individuals dead, including six Americans.

In 2020, a Pakistani anti-terrorism court convicted Saeed on multiple counts of terrorism financing and sentenced him to prison. The United States continues to seek information on Saeed because the Pakistani judicial system has released convicted LeT leaders and operatives in the past.

He supposed to be locked down for the rest of his life, but he was seen outside of prison many times and still leading the terror organization. Pakistani government is giving shelter to terrorists including him, while it is also supporting their terror activity in India.
Location: Pakistan.
Born: 5 June 1950;
Gender: Male;
Known also as: Hafiz Saed;
Activities:

Hafiz Muhammad Saeed (Urdu: حافظ محمد سعید, born 5 June 1950) is a Pakistani Islamist who co-founded Lashkar-e-Taiba (LeT), a Pakistan-based Islamist militant organization that is designated as a terrorist group by the United Nations Security Council, India, the United States, the United Kingdom, the European Union, Australia, and Russia. He is listed on India's NIA Most Wanted. In April 2012, the United States placed a bounty of US$10 million on Saeed for his role in the 2008 Mumbai attacks that killed 166 civilians. While India officially supported the American move, there were protests against it in Pakistan.

After the 2008 Mumbai attacks, he was designated by the Al-Qaida and Taliban Sanctions Committee of the Security Council. He is also listed on the United States Department of the Treasury's Specially Designated Nationals and Blocked Persons List as a Specially Designated Global Terrorist.

India has demanded that Saeed be handed over into Indian custody by Pakistan; however, there is no extradition agreement between the two countries. Saeed has denied ever being a leader of LeT and has said all allegations that he planned attacks in India are baseless.

In July 2019, three months before the scheduled reviewal of Pakistan's action plan by the Financial Action Task Force, Saeed was arrested by Pakistani authorities and sentenced to an 11-year prison sentence. In early April 2022, he was sentenced an additional 31 years for terror financing.

1994

In 1994, Saeed visited the United States and "spoke at Islamic centres in Houston, Chicago and Boston".
2001–2002

Pakistan took Saeed into custody on 21 December 2001 due to an Indian government assertion that he was involved in the 13 December 2001 attack on the Lok Sabha. He was held until 31 March 2002, released, then taken back into custody on 15 May. He was placed under house arrest on 31 October 2002 after his wife Maimoona Saeed sued the province of Punjab and the Pakistan federal government for what she claimed was an illegal detention.

2006

After 11 July 2006 Mumbai train bombings, the provincial government of Punjab, Pakistan arrested him on 9 August 2006 and kept him under house arrest but he was released on 28 August 2006 after a Lahore High Court order. He was arrested again on the same day by the provincial government and was kept in the Canal Rest House in Sheikhupura. He was finally released after the Lahore High Court order on 17 October 2006.

2008–2009

After the November 2008 Mumbai attacks, India submitted a formal request to the U.N. Security Council to put the group Jamaat-ud-Dawa and Saeed on the list of individuals and organisations sanctioned by the United Nations for association with terrorism.[45] India has accused the organisation and its leader, Saeed, of being virtually interchangeable with Lashkar-e-Taiba. India said that the close links between the organisations, as well as the 2,500 offices and 11 seminaries that Jamaat-ud-Dawa maintains in Pakistan, "are of immediate concern with regard to their efforts to mobilise and orchestrate terrorist activities." On 10 December 2008, Saeed denied a link between LeT and JuD in an interview with Pakistan's Geo television stating that "no Lashkar-e-Taiba man is in Jamaat-ud-Dawa and I have never been a chief of Lashkar-e-Taiba."

On 11 December 2008, Hafiz Muhammed Saeed was again placed under house arrest when the United Nations declared Jamaat-ud-Dawa to be an LeT front. Saeed was held in house arrest under the Maintenance of Public Order law, which allows authorities to detain temporarily individuals deemed likely to create disorder, until early June 2009 when the Lahore High Court, deeming the containment to be unconstitutional, ordered Saeed to be released. India quickly expressed its disappointment with the decision.

On 6 July 2009, the Pakistani government filed an appeal of the court's decision. Deputy Attorney General Shah Khawar told the Associated Press that "Hafiz Saeed at liberty is a security threat."

On 25 August 2009, Interpol issued a red notice against Saeed, along with Zakiur Rehman Lakhvi, in response to Indian requests for his extradition.

Saeed was again placed under house arrest by the Pakistani authorities in September 2009.

On 12 October 2009, the Lahore High Court quashed all cases against Saeed and set him free. The court also notified that Jama'at-ud-Da'wah is not a banned organisation and can work freely in Pakistan. Justice Asif Saeed Khosa, one of two judges hearing the case, observed "In the name of terrorism we cannot brutalise the law."

Indian attempts at extradition

On 11 May 2011, in an effort to place pressure on Pakistan, India publicly revealed a list of its 50 most wanted fugitives hiding in Pakistan. India believes Saeed is a fugitive, but the Indian arrest warrant had no influence in Pakistan and presently has no effect on Saeed's movements within Pakistan. Following the Lahore High Court ruling, Saeed has been moving freely around the country. For many years, India has demanded that Saeed be handed over but there is no extradition treaty between the two countries.

Declaration as a terrorist by the United States

The United States declared two Lashkar-e-Tayyiba leaders—Nazir Ahmad Chaudhry and Muhammad Hussein Gill—specially designated global terrorists. The State Department also maintained LeT's designation as a Foreign Terrorist Organisation and added the following aliases to its listing of LeT: Jama'at-ud-Dawa, Al-Anfal Trust, Tehrik-i-Hurmat-i-Rasool, and Tehrik-i-Tahafuz Qibla Awwal. The Department of Treasury said that LeT was responsible for the November 2008 terrorist attack in Mumbai which killed nearly 200 people. The group's leader is Saeed, who is listed under UN Security Council Resolution 1267.

Cooperation with Islamabad

In keeping with Pakistani establishment's wishes, Lashkar has been keeping focus on India and Saeed is among those who are thought to have helped Pakistan in capturing important al-Qaeda members like Abu Zubaydah.[50] Senior Pakistani officials have said that Saeed is helping in de-radicalisation and rehabilitation of former extremists and that security is being provided to him because he could be targeted by militants who disapprove of Saeed's co-operation with Islamabad.

American bounty

In April 2012, the United States announced a bounty of US$10 million on Saeed, for his role in the 2008 Mumbai attacks. Saeed stated that he had nothing to do with the Mumbai attacks and condemned them. When asked about the bounty, Saeed replied, "I am living my life in the open and the U.S. can contact me whenever they want." He subsequently stated that he was ready to face "any American court" to answer the charges and added that if Washington wanted to contact him, they knew where he was. "This is a laughable, absurd announcement. Here I am in front of everyone, not hiding in a cave," he said in a press conference. Saeed identified his leading role in the Difa-e-Pakistan Council and US attempts to placate India as reasons behind the bounty.

Arrest and trial

On 3 July 2019, 23 cases related to terror financing and money laundering under the Anti-Terrorism Act (ATA), 1997 were registered by Counter Terrorism Department (CTD) of Pakistan. According to CTD, JuD was financing terrorism from the funds collected by several non-profit organisations and trusts that included Al-Anfaal Trust, Dawatul Irshad Trust, Muaz Bin Jabal Trust, etc.[64] CTD had banned these non-profit organisations in April 2019. On further investigations, CTD had found that these organisations were linked with JuD and were in touch with the top leadership of JuD.

On 17 July 2019, Saeed was arrested in Gujranwala by the Punjab CTD on the charges of terror financing. He was subsequently sent to the prison on judicial remand by a Gujranwala Anti Terrorism Court (ATC). On 27 September 2019, during the United Nations General Assembly, USA asked Pakistan to prosecute Saeed, Masood Azhar and other UN-designated terrorists. On 30 November 2019, the Government of Pakistan stated that they will prosecute Saeed.[66] On 11 December 2019, he was indicted by the ATC in the charges of terror financing in several cities of Punjab province of Pakistan. As of December 2019, Saeed resides in the Kot Lakhpat jail also known as Central Jail Lahore. He was convicted for five years by a Pakistan court for financing terrorism, in February 2020. On November 19, 2020 a Pakistani court sentenced him for 5 years in prison on terrorism-financing charges making the conviction for a total of 10 years meanwhile an anti-terrorism court in the city of Lahore on fined Saeed 110,000 rupees (about $700). On 24 December he was sentenced to 15 and a half years in jail by an anti-terrorism court in Pakistan in one more terror financing case along with Rs20,000 (about $125) fine.

While being in prison, Saeed's former residence in Lahore was targeted by a bomb blast on June 23, 2021, resulting in the death of three people and the wounding of 22 more. Three people were arrested for the attack. Pakistan's national security adviser Moeed Yusuf said that while the three arrested were Pakistani citizens who planted the bomb, it was suspected that "India was behind the attack".