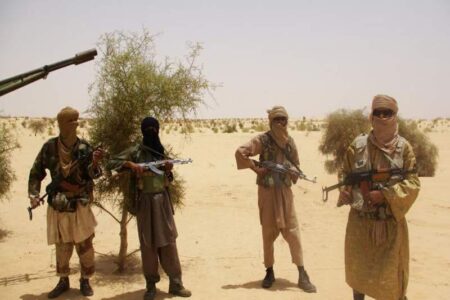 Islamic State terrorists killed 40 civilians in northern Mali
About 40 civilians were killed this week when armed insurgents simultaneously attacked several villages in the northern Mali region, media reports said Friday.
"Several armed men, probably from terror groups, attacked several villages in the rural commune of Tessit, in the Gao region, killing about 40 civilians," the Abamako newspaper reported, citing authorities.
The attackers, riding on about 50 motorcycles, raided six villages including Tadjalate, Tazime, Keygouroutane, Marsi, Bakane and Abagazoz.
The attackers are believed to be from Al-Qaeda-linked Group believed to be led by Malian Tuareg leader Iyad Ag Ghaly.
The report said the death toll could be higher because information was scanty based on the remoteness of the area.
One survivor told reporters that bodies were scattered in different places.
"But what is certain, before fleeing the scene, I counted more than 45 dead without those people reported missing," the survivor said.
The attackers reportedly looted cattle and food before fleeing.
They also looted supply shops before setting them on fire.
The latest attacks took place in the tri-border area near the borders of Burkina Faso and Niger, which has experienced violence since 2013.
The GSIM group is believed to be particularly active in the area and has claimed responsibility for previous attacks on government forces and civilians.
The military seized power in Mali in a coup in 2020, accusing elected leaders of the inability to stem violence.
An official communication on the Tessit violence has yet to be issued.
Mali has been battling an insurgency linked to al-Qaeda and the Daesh/ISIS terror groups since 2012 when unrest erupted in the north of the country.
The violence, which has killed thousands of civilians and troops, has spread to neighboring Niger and Burkina Faso.
Source: ABNA 24