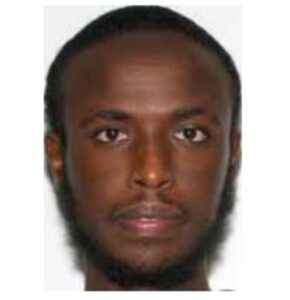 Liban Haji Mohamed
Terrorist Organization: Al Shabab;
Status: Unknown;
Roll: He provided material support and resources to Somali terrorist group al-Shabab. Mohamed disappeared from his home in northern Virginia in July 2012, allegedly traveling to Somalia to join al-Shabab. The US authorities accuse Mohamed of playing an operational role in al-Shabab and attempting to recruit for the terror organization;
Location: Unknown
Also Known As: Abu Ayrow; Liban Mohamed; Shirwa; Shirwac; Qatiluhum; Qatil;
Date of Birth: January 4, 1986
Place of Birth: Somalia
Place of Residence: Virginia
Citizenship: U.S.
Arrested: 01/2015
Custody: Somali (suspected)
Activities:
Liban Haji Mohamed is a naturalized U.S. citizen of Somali origin who is wanted by the FBI on charges of providing material support and resources to Somali terrorist group al-Shabab. Mohamed disappeared from his home in northern Virginia in July 2012, allegedly traveling to Somalia to join al-Shabab. U.S. authorities accuse Mohamed of playing an operational role in al-Shabab and attempting to recruit for the terror organization.

Mohamed worked as a taxi driver in northern Virginia's Fairfax County when he left the United States for East Africa on July 5, 2012, allegedly to join al-Shabab. According to the U.S. government's charges against him, Mohamed attempted to recruit an undercover U.S. agent to provide combat training to the Somali terrorist group. U.S. authorities also linked Mohamed to Zachary Chesser, a U.S. citizen serving a prison sentence for aiding al-Shabab. According to the FBI, Chesser and Mohamed were close associates. The FBI reportedly began monitoring Mohamed after Chesser's arrest in 2010.

In early 2012, federal investigators suspected Mohamed intended to travel to Texas and then Mexico in order to fly to Somalia. They sought to have him arrested on charges of material support before his departure, but FBI and National Security Division officials ruled there was not yet enough evidence to charge him. U.S. officials reportedly decided they needed a clear expression of intent from Mohamed and devised a plan to arrest him in Texas just before he crossed into Mexico. According to officials, Mohamed became suspicious and eluded authorities as he crossed through Texas and into Mexico in July 2012.

U.S. authorities allege Mohamed went on to join al-Shabab in Somalia. A family lawyer in the United States contested that Mohamed would join al-Shabab, noting that the terror group had killed Mohamed's uncle and imprisoned his cousins. According to the attorney, Gadeir Abbas, family members reached out to federal authorities after Mohamed had disappeared without explanation in the summer of 2012 but received no help in locating him. Interpol issued a red notice listing Mohamed as a wanted fugitive in July 2012 after he left the United States.

In February 2014, U.S. prosecutors filed a sealed arrest warrant for Mohamed on charges of providing material support and resources to al-Shabab. The U.S. Attorney's Office in the Eastern District of Virginia unsealed the warrant the following year on January 29, 2015. The FBI subsequently added Mohamed to its "Most Wanted List" of terrorists and offered a reward of up to $50,000 for information leading to his arrest and conviction. The FBI also labeled Mohamed "an asset to his terrorist associates who might plot attacks on U.S. soil."

The charges against Mohamed marked the second time federal authorities had investigated his family. The day after the government unsealed the warrant against Mohamed in January 2015, his brother, Gulet Mohamed, appeared at a hearing in Virginia regarding a lawsuit against the U.S. government. Gulet Mohamed had been placed on the U.S. no-fly list in 2009 while traveling abroad at the time studying Islam. After spending time in Yemen and Somalia, he traveled to Kuwait where he was arrested in August 2009 as he tried to renew his visa. Gulet Mohamed told his brother that Kuwait authorities had tortured him. Gulet Mohamed returned to the United States in January 2011, and no charges were filed against him. With the American Civil Liberties Union, Gulet Mohamed filed a lawsuit against the U.S. government over his inclusion on the no-fly list. The Mohamed family attorney questioned the timing of the government unsealing the warrant for Liban Mohamed the day before the first hearing of Gulet Mohamed's case.

Somali authorities reportedly captured Liban Mohamed in late January 2015 after the United States unsealed his arrest warrant. The United States does not have an extradition treaty with Somalia. It is unclear whether Mohamed remains in Somali custody. He faces up to 30 years in prison if convicted in the United States.