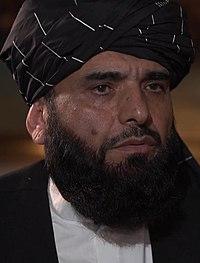 Muhammad Suhail Shaheen
Place of Birth: Afghanistan;
Gender: Male;
Nationality: Afghan;
General Info:
Muhammad Suhail Shaheen is an Afghan politician who currently serves as the Taliban spokesperson in the Qatar office. He was born in the Paktia Province of Afghanistan.

Shaheen was educated in Pakistan, in the International Islamic University in Islamabad and is known as a fluent English and Urdu speaker and prolific writer.

He edited the English-language, state-owned Kabul Times during the Islamic Emirate of Afghanistan before being appointed to the Afghan Embassy in Pakistan as a deputy ambassador.