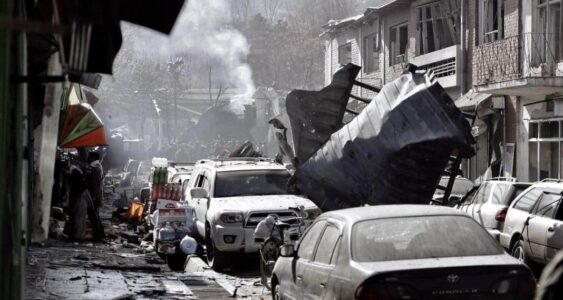 Blast Shakes Kabul, Injuring at Least Two People
Khalid Zadran Spokesperson of Kabul Police Command has confirmed the incident to Khaama Press that an explosion took place on Saturday evening in Pashtunistan Square.
Mr. Zadran said the explosion was caused by a magnetic mine placed in a Toyota 'Hilux' vehicle, which injured two civilians. Kabul police spokesperson did not provide any further details about the terror incident, but security personnel has reached the area and investigations are underway.
Meanwhile, some local Kabul residents have described the blast as quite horrific and loud which was heard from distant places. No one or group has claimed the responsibility for the attack so far.
Yesterday, anonymous people slaughtered seven members of a family in the 'Chimtaal' district in Mazar-i-Sharif, a northern province of Afghanistan. It is still not identified who committed the group killing and what were the motives behind the slaughter.
Two weeks ago, Mursal Nabizada, a former parliament member of Afghanistan, and one of her security guards were in killed in the heart of Kabul, with no one taking the responsibility for the killing.
Despite the ruling regime's tremendous efforts, security remains a major concern across Afghanistan. Target killing, explosion, and suicide attacks take place in a frequent manner in Kabul and other major cities of Afghanistan.
Security issues pose major threats to foreign nationals and potential investors in the country. The bombing which took place in a Chinese-run hotel in Kabul a couple of months ago, resulting in the injury of scores of Chinese nationals is a clear example.
On top of other issues, taking extra security measures need to be prioritized by Afghanistan's ruling regime to attract national and international investors and increase its engagements with the international community.
Source » khaama