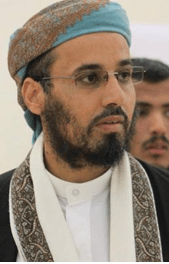 Abd al-Wahhab Muhammad Abd al-Rahman al-Humayqani
Activities:

Head of a Yemen-based Alkarama charity, and the organization's spokesman and founding member.

Humayqani has used his status in the charitable community to fundraise and has provided some of that funding to Al-Qaeda in the Arabian Peninsula and has facilitated financial transfers from AQAP supporters in Saudi Arabia to Yemen in support of AQAP operations.
As of 2012, Humayqani was an important figure within AQAP and reportedly had a relationship with important AQAP leaders.
Humayqani and others in March 2012 reportedly orchestrated an AQAP attack on a Yemeni Republican Guard base in al-Bayda' Governorate, Yemen. The attack employed multiple vehicle-borne improvised explosive devices and killed seven.
He is suspected to have recruited individuals to AQAP who were involved in a plot to assassinate Yemeni officials.
He has represented AQAP in meetings with Yemeni officials to negotiate the release of Yemeni soldiers held by AQAP and worked with AQAP operatives to coordinate the movement of AQAP fighters within Yemen.
Along with the U.S. and UN designated cleric Shaykh Abd al-Majid al-Zindani, he has issued religious guidance in support of AQAP operations.
Humayqani and AQAP leadership have planned to establish a new political party in Yemen, which AQAP planned to use as a cover for the recruitment and training of fighters and a means to attract broader support.

AQAP leadership decided that Humayani would play a public role as a leader and spokesman for the new political party.
He is a founding member of Yemen's conservative Rashad Union party and has served on the country's National Dialogue Conference, a group established in the wake of the Arab Spring uprising to advise the government on political and economic reforms.