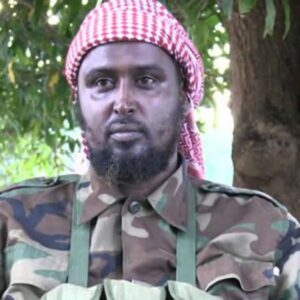 Ali Mohammed Rage
Terror organization: al-Shabaab;
Status: key leader and chief spokesman of al-Shabaab;
Roll: Rage has been involved in planning terrorist attacks in Kenya and Somalia for the group. He became al-Shabaab's top spokesman in May 2009;
Location: Somalia;
Place of Birth: Somalia;
Gender: Male;
Nationality: Somalian;
General Info:
Ali Mohamed Rage, also known as Ali Dheere, is al Shabaab's head spokesman and a member of the group's Shura Council. He has been included in the United States Specially Designated Global Terrorists list.

He also served as the group's chairman of Banadir region until February 16, 2011, when Mohamed Hassan Omar Abdurahman replaced him.

Rage is a member of the Murursade, a sub-clan of the Hawiye clan, which has a strong presence in the Banadir region.

He replaced Sheikh Mukhtar Robow, also known as Abu Mansur, as al Shabaab's top spokesman in May 2009 following a dispute between Rage, Robow, and Ahmed Abdi Godane, also known as Mukhtar Abu Zubair.

Rage refuted claims made by Human Rights Watch that al Shabaab terrorist attacks are war crimes. Rage said that al Shabaab does not recognize HRW and that al Shabaab only targets people serving non-Muslims.

Also, Rage released a statement accusing the United Nations of attempting to colonize Somalia and using Ugandan troops to do so. He called on the Somali people to fight to protect their land.