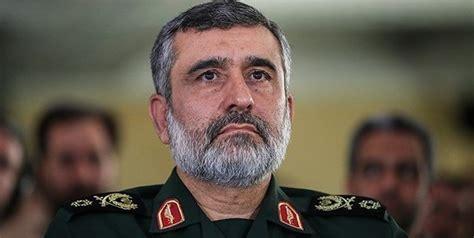 Amir Ali Hajizadeh
Terror organization: Iranian IRGC;
Status: Aerospace force commander of the IRGC;
Roll: A dominant figure in IRGC terror system, behind the latest progress in the drone abilities of IRGC. Took responsible for the missile launching at the Ukrainian airplane;
Location: Iran;
Born: 1962;
Place of Birth: Iran;
Gender: Male;
Type(s) of Organization: Militia, political party, social-service provider, terrorist, transnational, violent;
Ideologies and Affiliations: Iranian-sponsored, Islamist, jihadist, Khomeinist, Shiite;
Known also as: Brigadier General Amir Ali Hajizadeh;
Activities:

Amir Ali Hajizadeh is the internationally designated commander of the Aerospace Force of Iran's Islamic Revolutionary Guard Corps (IRGC). He holds the rank of brigadier general. In this role Hajizadeh oversees Iran's ballistic missile program. He claims the main purpose of Iran's missile program is to strike Israel. Hajizadeh is a staunch opponent of the 2015 nuclear agreement between Iran, the United States, United Kingdom, Germany, China, France, and Russia, which he saw as an attempt to weaken Iran. As head of the IRGC's missile program, he routinely boasts of Iran's military capabilities and regional dominance while directly threatening to strike U.S. and Israeli positions in the Middle East if those countries provoke the Islamic republic.
Hajizadeh has warned that the United States' intentions in Iraq and Syria is to destroy those countries, but Iran has thwarted those plans. Under Hajizadeh's command, the IRGC Aerospace Force has provided advisory assistance to Iraq's air force. Hajizadeh publicly boasts of Iran's military prowess, which he has said has no equal. He has warned that all American bases and ships within 2,000 kilometers of Iran are within the range of Iranian missiles. According to Hajizadeh, Iran is always fully prepared for war. Hajizadeh has welcomed a potential Israeli strike against Iran's nuclear facilities because it would give Iran reason to retaliate and destroy Israel. After Iran conducted missile tests in 2012 against a mock U.S. base, Hajizadeh declared the tests were a message against the "bullying" of Iran. The U.S. government has linked Hajizadeh to Iran bringing down a U.S. drone on June 20, 2019.
As head of the IRGC's aerospace division, Hajizadeh also commands the IRGC's missile development and arsenal. In April 2017, the Trump administration reportedly called for inspections of Iranian military sites in order to monitor the country's missile program. Hajizadeh has rejected all calls for such oversight. Hajizadeh accused the United States of trying to disarm Iran through various tactics. In March 2018, French Foreign Minister Jean-Yves Le Drian called on Iran to curb its missile program during a visit to Tehran. Hajizadeh accused France, the United Kingdom, the United States, and "the Zionist regime"—i.e., Israel—of manipulating international law for their own benefit. Hajizadeh has labeled U.S. criticism of Iran's missile program as a "pretext" for U.S. animosity against Iran.
On January 3, 2020, a U.S. airstrike in Iraq killed Qasem Soleimani, commander of the IRGC's Quds Force. On January 8, Iran launched a missile strike on the Ain Al-Asad airbase in Iraq. The IRGC claims the attack killed at least 80 Americans. U.S. officials denied any fatalities but at least 34 American troops were diagnosed with traumatic brain injuries. Also on January 8, Iranian forces shot down a Ukrainian passenger plane, killing all 179 on board. Hajizadeh claimed Iran mistook the plane for a cruise missile. According to Hajizadeh, the IRGC boosted its aerospace defenses in response to U.S. aggression. Hajizadeh warned that the January 8 attack on Ain Al-Asad was just the beginning of Iran's response to Soleimani's death. Hajizadeh called the revenge operation "Martyr Soleimani."