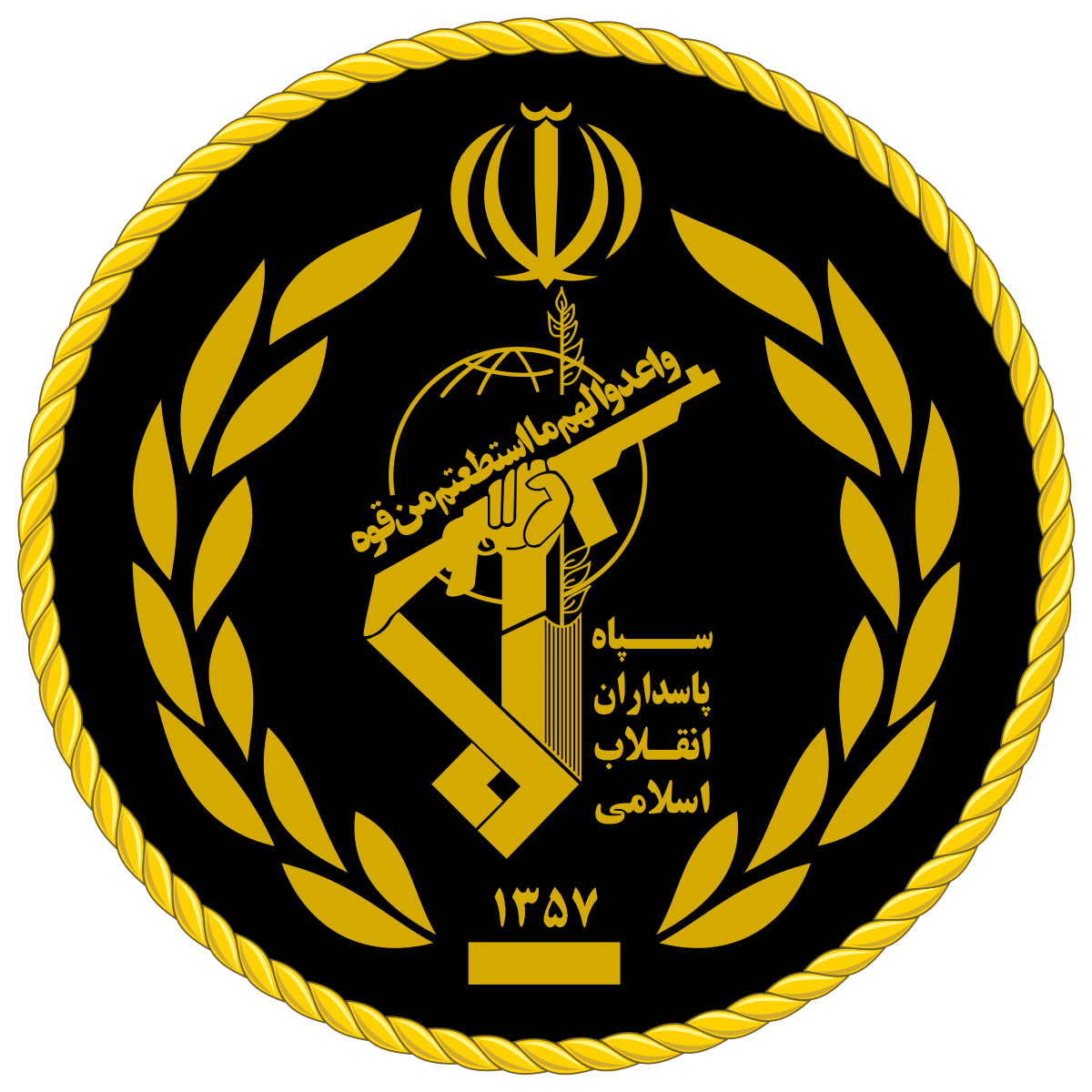 IRGC Quds Force
Established In:
1980;
Established By:
IRGC;
Country Of Origin:
Iran
;
Leaders:
Esmail Ghani – Commander of Quds Force Since Jan 3, 2020;
Key Members:
Hosein Afghajani, Akbar Seyed Alhosseini, Hushang Allahdad (financial officer), General Gholamreza Baghbani, Hasan Deghan Ebrahimi;
Also Known As:
IRGC-QF, Qods Force, Islamic Revolutionary Guard Corps-Qods Force, Pasdaran-e Enghelab-e Islami, Pasdaran, Sepah-e Qods, Jerusalem Force, Al Qods;
Operational Area:
Iraq
,
Syria
,
Lebanon
;
Involved In:
Armed Attacks, Mortar Attacks, Bomb Attacks, Assassinations;
The Quds Force (Persian: نیروی قدس, romanized: niru-ye qods, lit. 'Jerusalem Force') is one of five branches of Iran's Islamic Revolutionary Guard Corps (IRGC) specializing in unconventional warfare and military intelligence operations. U.S. Army's Iraq War General Stanley McChrystal describes the Quds Force as an organization analogous to a combination of the CIA and the Joint Special Operations Command (JSOC) in the United States. Responsible for extraterritorial operations, the Quds Force supports non-state actors in many countries, including Hezbollah, Hamas, Palestinian Islamic Jihad, Yemeni Houthis, and Shia militias in Iraq, Syria, and Afghanistan.

The Quds Force reports directly to the Supreme Leader of Iran, Ayatollah Khamenei. After Qassem Soleimani was killed, his deputy, Esmail Ghaani, replaced him. The U.S. Secretary of State designated the Islamic Revolutionary Guard Corps and Quds Force as a Foreign Terrorist Organization (FTO) in 2019 based on the IRGC's "continued support to and engagement in terrorist activity around the world." This was the first time that the U.S. ever designated another government's department as a FTO.

Quds Force was formally founded in 1988 after the IRGC's reorganization, post the Iran – Iraq war (it operated some years before and during the war in different formats – department 900 and Special External Operations). It is a special-operations branch within the IRGC. It is responsible for carrying out Iranian regional policies. In fact, it specializes in unconventional warfare and military intelligence operations which are fundamental to conducting terrorist attacks.

Quds Force is a completely independent structure within the IRGC, most of its units are clandestine, and the Quds Force commander reports directly to Khamenei, bypassing the formal chain of command.

Quds Force operates against western targets, and against opposition activists living outside Iran.

Quds Force units operate across the globe, focusing on the Middle East region. Quds forces are divided into the main HQ with the special units and several regional HQ scattered throughout the continents. It cooperates with proxy and client terror organizations and entities such as: Hezbollah, Houthis, Palestinian Islamic Jihad, Hamas, and Shiite networks (Pro-Iranian militias in Iraq, Syria, Afghanistan, and Shiite cells in Africa).

Quds Force provide the proxies with financing, training, weapons, technological equipment, intelligence, and command, tailored for each proxy.

Quds Force is also responsible for the operational connections with Iran-friendly countries that support terrorism such as: Syria, Venezuela, and North Korea.

Quds Force manages close relations with various Mafia syndicates, especially in Turkey, the Caucasus, Afghanistan, Pakistan, Iraq, and the Balkan.

Hitherto only three consecutive commanders headed Quds Force:

• Ahmad Vahidi (88'-98', the current Minister of Interior)
• Qassem Soleimani (98'-2020, killed January,2020 by a US airstrike)
• Esmail Qaani (2020-present)
A branch of the Islamic Revolutionary Guard Corps (IRGC) that supports terrorist organizations.

Provides financial and military support to militant and terrorist groups, including to Hezbollah and groups in Africa; officers have trafficked narcotics and use diplomatic, non-governmental, and humanitarian organizations as cover for operational activities.

Has provided support and equipment to the Syrian government to repress civilian movements; has cooperated with Yas Air (Pars Aviation Services Company), Mahan Air, and Iran Air, to reportedly supply the Syrian government with weapons and crowd control equipment; reportedly uses Syria as a hub to transfer weapons to Hezbollah in Lebanon, Hamas in Gaza, and Islamic Jihad in the West Bank; has used DFS Worldwide to ship goods from Dubai to Tehran.

Has provided weapons, training, funding, and guidance to Shi'a militants in Iraq; has reportedly supplied Iraqi militants with explosively formed penetrators (EFP) and the shaped charges used in improvised explosive devices (IEDs); has allegedly supplied bomb-making equipment to anti-government forces in Iraq, including material for 50 EFPs that was reportedly discovered in trucks crossing the Iranian border into Afghanistan.

Used Bank Melli for financial services and was sent at least $100 million through Bank Melli between 2002 and 2006; is reportedly financed through foreign-based shell companies which it directly owns or with which it is affiliated; reportedly uses a network of front companies throughout the Gulf region to finance its operations, including a stake in the Bonyard e Mostazafan va Janbazan (Bonyad e Mostazafan Foundation); received assistance from a network designated by the U.S. Department of the Treasury on November 20, 2017 for having circumvented European export control restrictions and for having procured equipment and materials in a scheme to counterfeit currency in support of the destabilizing activities in Yemen.

In October 2010, facilitated an attempted weapons shipment including grenades, rockets, mortars, and ammunition to The Gambia; weapons were shipped by Behineh Trading and Ali Abbas Usman Jega before being seized in Nigeria.

Oversees Unit 190, which has reportedly smuggled arms to conflict zones across the Middle East and Africa, including to Syria, Lebanon, and Yemen, using land, air, and sea routes; Unit 190 reportedly uses a network of front companies to circumvent sanctions and allegedly smuggles weapons, including rocket-propelled grenades (RPGs), night-vision equipment, and long-range rockets, packed within everyday items, such as powdered milk, cement, and spare vehicle parts.

The IRGC-QF is the Government of Iran's primary foreign action arm for executing its policy of supporting terrorist organizations and extremist groups around the world. The IRGC-QF provides training, logistical assistance and material and financial support to militants and terrorist operatives, including the Taliban, Lebanese Hizballah, Hamas, Palestinian Islamic Jihad and the Popular Front for the Liberation of Palestine-General Command;

IRGC-QF officers and their associates have supported attacks against U.S. and allied troops and diplomatic missions in Iraq and Afghanistan. The IRGC-QF continues to train, equip and fund Iraqi Shia militant groups – such as Kata'ib and Hizballah – and elements of the Taliban in Afghanistan to prevent an increase in Western influence in the region. In the Levant, the IRGC-QF supports terrorist groups such as Lebanese Hizballah and Hamas, which it views as integral to its efforts to challenge U.S. influence in the Middle East;

The Government of Iran also uses the IRGC and IRGC-QF to implement its foreign policy goals, including, but not limited to, seemingly legitimate activities that provide cover for intelligence operations and support to terrorist and insurgent groups. These activities include economic investment, reconstruction, and other types of aid to Iraq, Afghanistan and Lebanon, implemented by companies and institutions that act for or on behalf of, or are owned or controlled by, the IRGC and the Iranian government;
Quds Force's Special Units:
Unit 400:
Unit 400, also known as the "Special Operations Unit", is the most elite unit of Quds Force. It operates outside of Iran's boundaries. Its mission is to carry out terror operations against western targets. This unit is meant to do special missions that Quds Force wants to do itself without "taking a risk" on local cells that are less professional. It is staffed with highly trained personnel for various operational situations.

The unit is responsible for assassinations, kidnaping and sabotage.

The unit works closely with Hezbollah's elite unit 910, which serves the same purposes.

Unit 840:
Unit 840 is one of Quds Force's elite and classified units.

This unit branched in the recent years from unit 400 (highly trained assassination unit) and it's in charge of establishing terror cells in foreign countries and using them mainly to carry out terror operations (kidnap or assassination) against western targets and Iranian opposition activists. Those local cells are usually part of/connected to the local organized crime scene in the country of the operation.

The unit's main departments are: Headquarters, Intelligence, Middle East and Africa, Caucasus and Asia, Europe and the US, and an operational department specializing in activity against opposition activists.

Unit 840 carried out terrorist operations in various countries around the world with the goal to assassinate figures associated with the Iranian regime's opposition. Among them are assassinations of opposition activists in the Netherlands and Turkey, and failed assassination attempts in the US and Azerbaijan.

Recently, the unit used operatives from Iraq, Azerbaijan, Turkey, and Iranians that live in European countries to carry out their terror operations.

Unit 190:
Unit 190 is Quds Force's special unit for logistics operations. It is responsible for transferring and smuggling Iranian weapons and operatives around the world.

The unit was responsible for the transfer of tens of thousands of tons of weapons in recent years to proxy terror organizations, ethnic groups and countries, in accordance with Iran's interests, mainly: Hezbollah, the Assad regime in Syria, Houthis, Palestinian Islamic Jihad, Hamas Shiite militias in Iraq and more.

The modus operandi of the unit includes the use of cargo airplanes and cargo ship, civilian transportation for concealment (airplanes, ship, trucks), transfer of weapons through third countries, send it with false paperwork guised as humanitarian aid, and hide it inside containers with legitimate products.

A significant part of the unit's personnel are pilots who work under the cover of one of the Iranian airlines, with the aim of deceiving the west and to conceal them. The plane is packed with tons of weapons or operatives who want to reach the same destination without any documentation.

Unit 340:
The technological R&D unit of Quds Force. Most of the unit's employees are mechanical engineering experts who are assisted by a series of engine and missile production facilities in the Tehran and Samnan area for production, research, training, and system testing.

In addition to the development of rockets, the unit provides training and technical support to terrorist organizations backed by it, mainly Hezbollah, Islamic Jihad, the Iraqi militias and the Houthis in Yemen. The technical support is intended to allow those organizations the ability to self-produce rockets. The briefings and training in Iran are carried out at the "Shahid Shabani" training center and at the shooting test ranges of the Space Research Center at the Samnan site.

Among the developments that came out of the technical unit's planning table were heavy rockets which were seen in the arena of Iraq, Syria and recently also in the Gaza arena. These rockets carry an especially large warhead for a larger radius of destruction and heavy damage in urban areas.
The size of the Quds Force is classified and unknown. In 2007, Mahan Abedin of Center for the Study of Terrorism said that Quds Force numbers no more than 2,000 people, with 800 core operatives. Scott Shane, who interviewed several American scholars later that year, wrote that estimates range from 3,000 to 50,000. In 2013, Dexter Filkins wrote that the Quds Force has 10,000–20,000 members, "divided between combatants and those who train and oversee foreign assets". The 2020 edition of The Military Balance, published by the International Institute of Strategic Studies (IISS), estimated that the force has about 5,000 personnel.

In 2020, Jack Watling of the Royal United Services Institute estimated the Quds Force had the "divisional strength military formation" of approximately 17,000 to 21,000 members, split regionally.
Companies controlled by the Quds Force maintain banking relationships with the Bank of Kunlun, a subsidiary of the China National Petroleum Corporation.
Listed by the European Union on July 26, 2010 as an entity linked to Iran's proliferation-sensitive nuclear activities or Iran's development of nuclear weapon delivery systems; with some exceptions, European Union member states must freeze all funds and economic resources owned, held, or controlled by the listed entity, and prevent funds or economic resources from being made available to it.

Sanctioned (with all successors, sub-units, and subsidiaries) by the United States on April 30, 2018, June 28, 2016, August 28, 2015, December 19, 2014, and May 23, 2011 under the Iran, North Korea, and Syria Nonproliferation Act; sanctions apply for two years and ban the U.S. government from procuring from, contracting with, providing assistance to, or issuing export licenses involving controlled items for the entity; added on October 25, 2007 to the Specially Designated Nationals (SDN) list maintained by the U.S. Department of the Treasury's Office of Foreign Assets Control (OFAC), blocking its assets under U.S. jurisdiction and prohibiting transactions with U.S. parties, pursuant to Executive Order 13224, which targets terrorists and those providing support to terrorists or acts of terrorism; foreign parties facilitating transactions for the entity or otherwise assisting the entity are subject to U.S. sanctions.

Sanctioned by the governments of Australia and South Korea, restricting business and financial transactions with the entity and/or freezing its assets in those countries.

Listed by the Japanese government in 2018 as an entity of concern for proliferation relating to missiles; added by the Canadian government to its list of terrorist entities on December 17, 2012.

The United States has designated the Quds Force a supporter of terrorism since 2007;
Allegedly has 12 directorates, garrisons designed to follow up on terrorist operations in bordering countries terrorist units assigned to specific extraterritorial regions, and training bases for foreign nationals and non-Iranian operatives; reportedly has between 3,500 and 5,000 members;

» According to the U.S. Department of the Treasury, provides material support to Hizballah, Hamas, the Palestinian Islamic Jihad (PIJ), the Popular Front for the Liberation of Palestine-General Command (PFLP-GC), and the Taliban;

» Considered the primary instrument for providing weapons and financial support to anti-U.S. and anti-Coalition Taliban activity in Afghanistan;

» Provides guidance, funding, weapons, intelligence, and logistical support to Hizballah, including training facilities for fighters and an estimated $100 to $200 million in funding annually;
The Quds Force trains and equips foreign Islamic revolutionary groups around the Middle East. The paramilitary instruction provided by the Quds Force typically occurs in Iran or Sudan. Foreign recruits are transported from their home countries to Iran to receive training. The Quds Force sometimes plays a more direct role in the military operations of the forces it trains, including pre-attack planning and other operation-specific military advice.
Afghanistan

Since 1979, Iran had supported the Shi'a Hezbe Wahdat forces against the Afghan government of Mohammad Najibullah. When Najibullah stepped down as President in 1992, Iran continued supporting Hezbe Wahdat against other Afghan militia groups. When the Taliban took over Afghanistan in 1996, Hezbe Wahdat had lost its founder and main leader, Abdul Ali Mazari, so the group joined Ahmad Shah Massoud's Northern Alliance. Iran began supporting the Northern Alliance against the Taliban, who were backed by Pakistan and the Arab world. In 1999, after several Iranian diplomats were killed by the Taliban in Mazar-e Sharif, Iran nearly got into a war with the Taliban. The Quds Force reportedly fought alongside the United States and the Northern Alliance in the Battle for Herat. However, in recent years Iran is accused of helping and training the Taliban insurgents against the NATO-backed Karzai administration. Iranian-made weapons, including powerful explosive devices are often found inside Afghanistan

In March 2012, Najibullah Kabuli, leader of the National Participation Front (NPF) of Afghanistan, accused three senior leaders of Iran's Revolutionary Guards of plotting to assassinate him. Some members of the Afghan Parliament accuses Iran of setting up Taliban bases in several Iranian cities, and that "Iran is directly involved in fanning ethnic, linguistic and sectarian tensions in Afghanistan." There are reports about Iran's Revolutionary Guards training Afghans inside Iran to carry out terrorist attacks in Afghanistan.
India

Following an attack on an Israeli diplomat in India in February 2012, Delhi Police at the time contended that the Iranian Revolutionary Guard Corps had some involvement. This was subsequently confirmed in July 2012, after a report by the Delhi Police found evidence that members of Iranian Revolutionary Guard Corps had been involved in the 13 February bomb attack in the capital.
United States

On 11 October 2011, the Obama Administration revealed the United States Government's allegations that the Quds Force was involved with the plot to assassinate Saudi Arabia's Ambassador to the United States Adel al-Jubeir, which also entailed plans to bomb the Israeli and Saudi embassies located in Washington, D.C. In November, plans to assassinate former advisor of President of the United States John Bolton were discovered.
South America

It's been reported that Iran has been increasing its presence in Latin America through Venezuela. Little is known publicly what their objectives are in the region, but in 2009, Defense Secretary Robert Gates denounced Iran for meddling in "subversive activities" using Quds Forces. However, Iran claims it is merely "ensuring the survival of the regime" by propagating regional influence.

Juan Guaidó, President of the National Assembly of Venezuela, accused Nicolás Maduro in January 2020 of allowing Qasem Soleimani and his Quds Forces to incorporate their sanctioned banks and their companies in Venezuela. Guaidó also said that Soleimani "led a criminal and terrorist structure in Iran that for years caused pain to his people and destabilized the Middle East, just as Abu Mahdi al-Muhandis did with Hezbollah."
Iraq

The Quds Force has been described as the Iranian "unit deployed to challenge the United States presence" in Iraq following the U.S. invasion of that country, which put "165,000 American troops along Iran's western border," adding to the American troops already in Iran's eastern neighbor Afghanistan.

The force "operated throughout Iraq, arming, aiding, and abetting Shiite militias"—i.e., the Supreme Council for Islamic Revolution in Iraq, Dawa, and the Mahdi Army—"all" of which "had close ties to Iran, some dating back decades" as part of their struggle against Saddam Hussein's oppressive Arab nationalist regime.

In November 2006, with sectarian violence in Iraq increasing, U.S. General John Abizaid accused the Quds Force of supporting "Shi'a death squads", while the government of Iran was pledging support in stabilization. Similarly, in July 2007, Major General Kevin Bergner of the U.S. Army alleged that members of the Quds Force aided in the planning of a raid on U.S. forces in the Iraqi city of Karbala in January 2007.

Former CIA officer Robert Baer asserts the Quds Force uses couriers for all sensitive communications.
2006 detainment in Iraq

On 24 December 2006, The New York Times reported that at least four Iranians had been captured by American troops in Iraq in the previous few days. According to the article, the U.S. government suspected that two of them were members of Quds Force, which would be some of the first physical proof of Quds Force activity in Iraq. According to The Pentagon, the alleged Quds Force members were "involved in the transfer of IED technologies from Iran to Iraq." The two men had entered Iraq legally, although they were not accredited diplomats. Iraqi officials believed that the evidence against the men was only circumstantial, but on 29 December, and under U.S. pressure, the Iraqi government ordered the men to leave Iraq. They were driven back to Iran that day. In mid-January 2007 it was reported that the two alleged Quds force officers seized by American forces were Brig. Gen. Mohsen Chizari and Col. Abu Amad Davari. According to The Washington Post. Chizari is the third highest officer of Quds Force, making him the allegedly highest-ranked Iranian to ever be held by the United States.

New York Sun report

The New York Sun reported that the documents described the Quds Force as not only cooperating with Shi'a death squads, but also with fighters related to al-Qaeda and Ansar al-Sunna. It said that the Quds Force had studied the Iraq situation in a similar manner to the U.S. Iraq Study Group, and had concluded that they must increase efforts with Sunni and Shiite groups in order to counter the influence of Sunni states.
U.S. raid on Iranian liaison office

On 11 January 2007, U.S. forces raided and detained five employees of the Iranian liaison office in Erbil, Iraq. The U.S. military said the five detainees were connected to the Quds Force. The operation drew protests from the regional Kurdish government while the Russian government called the detainments unacceptable.

Alireza Nourizadeh, a political analyst at Voice of America, stated that their arrests were causing concern in Iranian intelligence because the five alleged officials were knowledgeable of a wide range of Quds Force and Iranian activities in Iraq. According to American ambassador Zalmay Khalilzad, one of the men in custody was Quds Force's director of operations.

Iranian and Iraqi officials maintained that the detained men were part of a diplomatic mission in the city of Erbil, Iraq. The five Iranian detainees were still being held at a U.S. prison in Iraq as of 8 July 2007. The U.S. said they were "still being interrogated" and that it had "no plans to free them while they are seen as a security risk in Iraq." Iran said that the detainees were "kidnapped diplomats" and that they were "held as hostages."

On 9 July 2009, the five detainees were released from U.S. custody to Iraqi officials.
Allegations of involvement in Karbala attack

On 20 January 2007, a group of gunmen attacked the Karbala Provincial Joint Coordination Center in Karbala, captured four American soldiers, and subsequently killed them. The attackers passed through an Iraqi checkpoint at around 5 pm, a total of five black GMC Suburbans, similar to those driven by U.S. security and diplomatic officials. They were also wearing American military uniforms and spoke fluent English. Because of the sophistication of the attack, some analysts have suggested that only a group like the Quds Force would be able to plan and carry out such an action. Former CIA officer Robert Baer also suggested that the five Americans were killed by the Quds Force in revenge for the Americans holding five Iranians since the 11 January raid in Irbil. It was reported that the U.S. military is investigating whether or not the attackers were trained by Iranian officials; however, no evidence besides the sophistication of the attack has yet been presented.

On 2 July 2007, the U.S. military said that information from captured Hezbollah fighter Ali Musa Daqduq established a link between the Quds Force and the Karbala raid. The U.S. military claims Daqduq worked as a liaison between Quds force operatives and the Shia group that carried out the raid. According to the United States, Daqduq said that the Shia group "could not have conducted this complex operation without the support and direction of the Quds force".

Allegations of support for Iraqi militants

In June 2007, U.S. General Ray Odierno asserted that Iranian support for these Shia militia increased as the United States itself implemented the 2007 "troop surge". Two different studies have maintained that approximately half of all foreign insurgents entering Iraq come from Saudi Arabia.

In December 2009 evidence uncovered during an investigation by The Guardian newspaper and Guardian Films linked the Quds Force to the kidnappings of five Britons from a government ministry building in Baghdad in 2007. Four of the hostages, Jason Creswell, Jason Swindlehurst, Alec Maclachlan, and Alan McMenemy, were killed. Peter Moore was released on 30 December 2009. The investigation uncovered evidence that Moore, 37, a computer expert from Lincoln was targeted because he was installing a system for the Iraqi Government that would show how a vast amount of international aid was diverted to Iran's militia groups in Iraq. One of the alleged groups funded by the Quds force directly is the Righteous League, which emerged in 2006 and has stayed largely in the shadows as a proxy of the Quds Force. Shia cleric and leading figure of the Righteous League, Qais al-Khazali, was handed over by the U.S. military for release by the Iraqi government on 29 December 2009 as part of the deal that led to the release of Moore.
Allegations by U.S. President Bush

In a 14 February 2007 news conference U.S. President George W. Bush reiterated his claim that the Quds Force was causing unrest in Iraq, stating:
I can say with certainty that the Quds force, a part of the Iranian government, has provided these sophisticated IEDs that have harmed our troops. And I'd like to repeat, I do not know whether or not the Quds Force was ordered from the top echelons of government. But my point is what's worse – them ordering it and it happening, or them not ordering it and it happening? And so we will continue to protect our troops. … to say it [this claim] is provoking Iran is just a wrong way to characterize the Commander-in-Chief's decision to do what is necessary to protect our soldiers in harm's way. And I will continue to do so. … Whether Ahmadinejad ordered the Quds force to do this, I don't think we know. But we do know that they're there, and I intend to do something about it. And I've asked our commanders to do something about it. And we're going to protect our troops. … I don't think we know who picked up the phone and said to the Quds Force, go do this, but we know it's a vital part of the Iranian government. …What matters is, is that we're responding. The idea that somehow we're manufacturing the idea that the Iranians are providing IEDs is preposterous. … My job is to protect our troops. And when we find devices that are in that country that are hurting our troops, we're going to do something about it, pure and simple. … does this mean you're trying to have a pretext for war? No. It means I'm trying to protect our troops.
Mohsen Sazegara, who was a high-ranking Tehran official before turning against the government, has argued that Ahmadinejad does not control the Guards outside of Iran. "Not only the foreign ministry of Iran; even the president does not know what the Revolutionary Guards does outside of Iran. They directly report to the leader", he said, referring to Grand Ayatollah Ali Khamenei. Although Ali Khamenei is the ultimate person in charge of the Quds Force, George Bush did not mention him. According to Richard Clarke, "Quds force reports directly to the Supreme Ayatollah, through the commander-in-chief of the revolutionary guards."


Detainment of alleged bomb smuggler

On 20 September 2007, the U.S. military arrested an Iranian during a raid on a hotel in Sulaimaniyah, a city in the Kurdish-controlled north. The military accused the Iranian of being a member of the elite Quds Force and smuggling powerful roadside bombs, including armor-piercing explosively formed penetrators, into Iraq. The military said intelligence reports asserted the suspect was involved in the infiltration and training of foreign fighters into Iraq as well.

On 22 September 2007, Iraqi President Jalal Talabani criticized the United States for arresting the Iranian and called for his immediate release. Talabani argued he is a civil servant who was on an official trade mission in the Kurdish Region and stated Iraqi and Kurdish regional government representatives were aware of the man's presence in the country. "I express to you our outrage for these American forces arresting this Iranian civil official visitor without informing or cooperating with the government of the Kurdistan region, which means insult and disregard for its rights", Talabani wrote in a "letter of resentment" to Ryan Crocker, U.S. ambassador to Iraq, and Gen. David Petraeus.


Allegations of 2007 market attack

On 24 November 2007, US military officials accused an Iranian special group of placing a bomb in a bird box that blew up at a popular animal market in central Baghdad. "The group's purpose was to make it appear Al Qaeda in Iraq was responsible for the attack", Admiral Smith said. He further emphasized there was "no evidence Iran ordered the attack". In May 2008, Iraq said it had no evidence that Iran was supporting militants on Iraqi soil. Al-Sadr spokesman Al-Ubaydi said the presence of Iranian weapons in Iraq is "quite normal," since "they are bought and sold and any party can buy them."

Allegations of ties to Al-Qaeda

According to reports produced by Agence France-Presse (AFP), The Jerusalem Post, and Al Arabiya, at the request of a member of the United States' House Permanent Select Committee on Intelligence, in 2011 Congressional counter-terrorism advisor Michael S. Smith II of Kronos Advisory, LLC produced a report on Iran's alleged ties to Al-Qaeda that was distributed to members of the Congressional Anti-Terrorism Caucus. Titled "The al-Qa'ida-Qods Force Nexus: Scratching the Surface of a Known Unknown", a redacted version of Smith's report is available online via the blog site owned by American military geostrategist and The Pentagon's New Map author Thomas P.M. Barnett. The report's Issue Summary section explains: "This report focuses on the history of Iran's relationship with al-Qa'ida, and briefly addresses potential implications of these ties. Additionally, its author provides a list of recommended action items for Members of the United States Congress, as well as a list of questions that may help Members develop a better understanding of this issue through interactions with defense and intelligence officials". A member of the Quds Force was alleged arrested with 21 other suspects in the attack on the Israeli and United States embassies on 14 March 2012 in Azerbaijan.


Lebanon

In 1982, deployed to Lebanon for resupplying materiel for Hezbullah

Syria

Further information: Syrian civil war and Iranian involvement in the Syrian civil war

In 2011, the Quds Force deployed to Syria. IRGC Commander Jafari announced on 16 September 2012 that Quds Force "were present" in Syria.

Coinciding with the Geneva II Conference on Syria in 2014, Iran boosted its presence in Syria with several "hundred" military specialists, including senior commanders from the Quds Force, according to Iranian sources and security experts. While recently retired senior IRGC commander told that there were at least 60 to 70 Quds force commanders on the ground in Syria at any given time. The primary role of these forces is to gather intelligence and manage the logistics of the battle for the Syrian Government.

In November 2015, the Quds Force conducted a successful rescue mission of a Russian bomber pilot who was shot down by a Turkish fighter jet.

In May 2018, Quds forces on the Syrian-held side of the Golan Heights allegedly fired around 20 projectiles towards Israeli army positions without causing damage or casualties. Israel responded with airstrikes against Iranian bases in Syria. At least twenty-three fighters, among them 18 foreigners, were reportedly killed in the strikes.

In January 2019, the Israel Defense Forces confirmed that it had carried out strikes against Iranian military targets in Syria several hours after a rocket was intercepted over the Golan Heights. The Israeli military claimed in a statement that Quds Force positions were targeted and included a warning to the Syrian military against "attempting to harm Israeli forces or territory."

In April 2021, prominent Syria-based Quds operative Brigadier General Mohammad Reza Fallahzadeh became Quds Deputy Commander.


Africa

IN 2021, the African network was dismantled by the Israeli intelligence agency Mossad.

Germany

In January 2018, German authorities conducted raids in Baden-Württemberg, North Rhine-Westphalia, Bavaria and Berlin, searching homes and businesses belonging to ten alleged Iranian Quds Force members, suspected of spying on Israeli and Jewish targets.


Yemen

In 2014, deployed for advisor role as Ansar Allah in Yemeni Civil War.