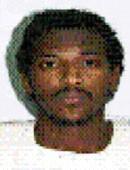 Mohamed Makawi Ibrahim Mohamed
Terror organization: in the past Al-Qaeda in the Lands of the Two Niles (AQTN), now Al Shabab.
Status: Former Operative in AQTN, now Al Shabab operative.
Roll: He was the leader and one of the shooters of a terror attack occurred in Khartoum, January 1st, 2008, in that killed U.S. Agency for International Development (USAID) employees John Granville and Abdelrahman Abbas Rahama.

A Sudanese court tried, convicted, and sentenced Makawi to death in 2009 for his involvement in the murders. However, he escaped from prison on June 10, 2010, before his sentence could be carried out. He remains at large and is believed to be in Somalia.

He holds Sudanese nationality.
Location: Unknown, most likely in Somalia due to its joining to Al Shabab.