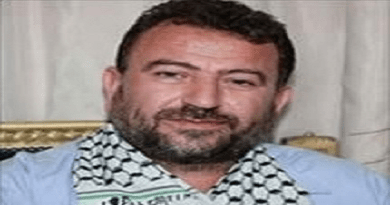 Saleh al-Arouri
Born: 19 August 1966;
Place of Birth: Ramallah, West Bank;
Terror organization: Hamas
Status: Deputy chairman of Hamas political bureau, commander for Hamas' terror activity in the West Bank;
Roll: one of the establishers of "Izz al Din al Qassam" brigades – Hamas military wing. Lives now in Beirut;
Area of activity: Qatar, Turkey, Iran;
Passport 2525897 (Palestine); alt. 3580327 (Palestine).
Activities:

Salah al-Aruri is a prominent leader of Hamas and founding commander of Izz ad-Din al-Qassam Brigades, the Hamas military. He is regarded as, "the military commander of the West Bank".
He also served as a recruiter, and was actively involved in raising and transferring funds on behalf of Hamas.
In March 2012, he met with Turkish President Erdogan. In October 2012, he attended the visit of the Qatari emir to the Gaza Strip.