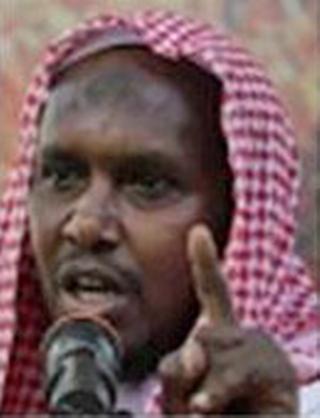 Fuad Mohamed Khalaf
Terror organization: Al Shabab;
Status: One of the leaders of Al Shabab, he facilitated financial support mechanism to the organization;
Roll: In April 2008, Khalaf and several other individuals directed vehicle-borne explosive device attacks on Ethiopian bases and Transitional Federal Government elements in Mogadishu, Somalia. In May 2008, Khalaf and a group of fighters attacked and captured a police station in Mogadishu, killing and wounding several soldiers. That same month, Khalaf held two fundraising events for al-Shabaab at mosques in Kismaayo, Somalia;
Location: Somalia;
Known also as: Fuad Shongale; Fuad Muhammad Khalaf Shongole; Fouad Shongale; Fuad Songale; Fuad Shangole; Fuad Shongole; Fuad Shongale; Fuad Khalaf; Fuad Mohammed Khalif; Fuad Mohamed Kalaf; Fuad Mohammed Khalaf; Fuad Mohamed Qalaf; Fuad Mohamed Khalif;
POB: Somalia;
Nationality: Somalia, Sweden;
Activities:
Rewards for Justice is offering a reward of up to $5 million for information on Fuad Mohamed Khalaf, also known as Fuad Shongale. Khalaf is a leader of al-Shabaab and has facilitated financial support for this U.S.-designated Foreign Terrorist Organization (FTO).

In April 2008, Khalaf and several other individuals directed vehicle-borne explosive device attacks on Ethiopian bases and Transitional Federal Government elements in Mogadishu, Somalia. In May 2008, Khalaf and a group of fighters attacked and captured a police station in Mogadishu, killing and wounding several soldiers. That same month, Khalaf held two fundraising events for al-Shabaab at mosques in Kismaayo, Somalia.

On April 13, 2010, the U.S. Department of the Treasury designated Khalaf as a Specially Designated National pursuant to Executive Order 13536 for contributing to the violence and deterioration of security in Somalia. As a result of this designation, among other consequences, all property and interests in property of Khalaf that are subject to U.S. jurisdiction are blocked, and U.S. persons are generally prohibited from engaging in any transactions with Khalaf. In addition, it is a crime to knowingly provide, or attempt or conspire to provide, material support to al-Shabaab, a designated FTO.