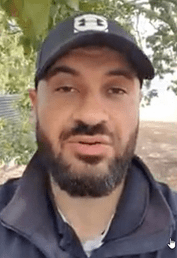 Gabriel Crazzi
Born: 1987;
Place of Birth: Australia;
Gender: Male;
Nationality: Australian;
General Info:
Gabriel Crazzi (recognized as Brisbane dog trainer) is a person accused of co-running a terrorist community that despatched Australian fighters to Syria.

Crazzi, along with Ahmed Talib helped get Australian nationals to Syria where they joined terrorist groups.

Police imagine that between 2012 and 2014, as many as seven Australian fighters had been helped to attain Syria.

Those groups included Jabhat al-Nusra (Al-Nusra Front), additionally know as al-Qaeda in Syria.

One of the boys the group helped was Ahmed Succarieh, believed to be Australia's first suicide bomber.

He blew himself up when he drove a truck loaded with explosives right into a navy checkpoint in Syria in September 2013, killing 35 people.

Talib and Crazzi have been charged with preparations for international incursions into Syria, an offence that carries a 10-year jail time period.

Also, Crazzi can be accused of travelling to Syria in 2014 to participate in the battles against the Syrian army.