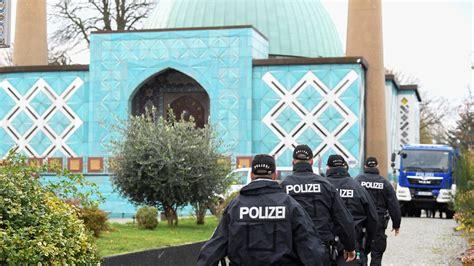 Germany raids Islamic center allegedly linked to Hezbollah
German police on Thursday launched a nationwide raid against an Islamic organization over suspected ties to Lebanese Hezbollah.
Conducted in seven of Germany's 16 federal states, the operation targeted 54 sites linked to the Islamic Center Hamburg, also known as IZH (its German initials), and five affiliated groups, the Interior Ministry announced in a statement.
No arrests were made during the operation, which the ministry said was aimed at securing evidence to confirm suspicions that the center "supports the activities of the Lebanese terrorist Hezbollah organization."
The ministry also accused the center of "spreading the revolutionary concept of the Supreme [Iranian] leaders" and reinforcing "a clear anti-Semitic and anti-Israel attitude."
The IZH is one of the oldest Islamic centers in Germany. A group of Iranians based in the northern city of Hamburg established it in the early 1950s to "cater not only for the Iranians, but rather for all Muslims living in Hamburg," according to the center's website.
Germany's intelligence services over the years have investigated the center, which it considers "Iran's most important representation in Germany and a significant center of propaganda" in Europe.
In July, the German Federal Administrative Court ruled that the IHZ was an "extremist Islamic organization" based on intelligence findings linking it to various militant groups, including Hezbollah. In April 2020, Germany designated Hezbollah a terror organization and banned the activities of its political wing on its soil.
Thursday's raid comes amid the ongoing Israel-Hamas war, which has fueled both anti-Jewish and anti-Muslim sentiments around the world.
"At a time when numerous Jews feel particularly threatened," Germany will "not tolerate neither Islamist propaganda nor anti-Semitist incitement hostile to Israel," said a ministry statement quoting Interior Minister Nancy Faeser.
Earlier this month, the German Interior Ministry announced a complete ban on all of Hamas' activities in the country and dissolved Samidoun, a Palestinian prisoner solidarity group. The move came after Samidoun posted photos on Instagram of celebrations of Hamas' attack on southern Israel. The European Union, to which Germany belongs, designated Hamas a terrorist organization in 2001.
Regional tensions
After Hamas' Oct. 7 attack in southern Israel and Israel's military retaliation against the Gaza Strip, Iranian proxies launched a series of attacks against Israeli and US positions in the region. As of Monday, at least 52 attacks against US troops in Syria and Iraq have been reported, according to the Pentagon.
On Tuesday, the Houthis in Yemen claimed responsibility for a series of ballistic missiles launched at various Israeli targets, including the Red Sea city of Eilat. The Israeli military said one missile was intercepted over the sea.
Hezbollah and Israeli forces have been engaged in heavy exchanges of fire along the Lebanon-Israel border, stoking fears of a wider regional conflict.
Source » al-monitor.com