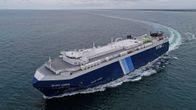 Japan appeals for release of seized cargo ship
The Japanese government has condemned the seizure of a Japanese cargo ship by Iranian-backed Houthi rebels and appealed for the release of the vessel and its crew members.
The Galaxy Leader, a Japanese-operated and Bahamian-flagged ship, was attacked in the Red Sea off the coast of Yemen yesterday by several armed individuals who rappelled from a helicopter down to the deck, three U.S. officials told NBC News. The Houthis have been launching drones and missiles toward Israel in solidarity with Hamas militants and had warned they might target Israeli ships in the area.
Japanese government spokesperson Hirokazu Matsuno said today that no Japanese nationals were on board the vessel, which its operator, NYK Line, said had a crew of 25. The Israel Defense Forces said on X that it was "not an Israeli ship."
"While communicating with Israel, efforts are also being made to directly approach the Houthis, as well as lobbying Saudi Arabia, Oman, Iran, and other relevant nations to strongly urge the Houthis for the early release of the vessel and crew members," Matsuno said.
Source » nbcnews.com