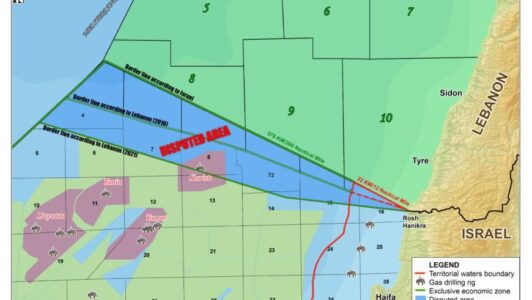 Lebanese official: Maritime border talks with Israel 'nearly complete'
Maritime border talks between Lebanon and Israel to reach an agreement on how to divide natural gas resources are nearly complete, Reuters reported on Tuesday.
The discussions have been ongoing for almost two years.
"We're talking about weeks—actually, days—to finish the delineation issue. I'm hopeful that the situation is positive," said the head of Lebanon's General Security Agency, Abbas Ibrahim, according to the report.
The United States is mediating the border talks, in a bid to enable a division of undersea natural gas reserves, extraction and further exploration by both countries.
Hezbollah has threatened to attack Israel's northern offshore gas rig, Karish, if a solution is not found before Israel begins extracting gas from the area.
Ibrahim met with U.S. mediator Amos Hochstein last week, who said last week that his hours-long visit to Beirut on Sept. 9 proved that talks were making "very good progress."
According to Israeli and Lebanese authorities, an Israeli plan to delineate the area would allow Lebanon to utilize gas deposits in a disputed area in exchange for agreeing to a northern boundary line, the report said.
It cited a political source familiar with the negotiations as saying that the Lebanese side had requested a written form of the plan before providing a final response.
Source: jns