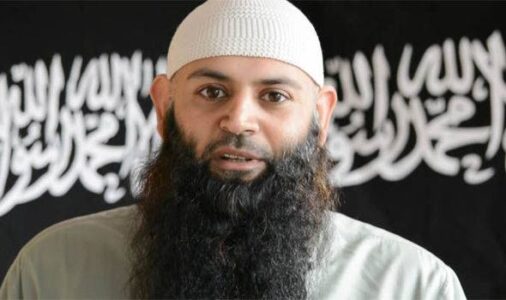 Abu Haleema
Born: 1973;
Place of Birth: United Kingdom;
Gender: Male;
Nationality: British;
General Info:
Shakil Chapra (better known by his kunya Abu Haleema), is a British Muslim radical activist and extremist preacher. He is a suspected supporter of the Islamic State, and regularly refers to the khilafah (caliphate).

Haleema was born in London to Pakistani immigrant parents and grew up in South Kilburn. He works part-time as a bus driver. His kunya Abu Haleema, means Father of Haleema. Haleema is the name of his daughter.

According to the London Evening Standard, he is an associate of imprisoned Islamic State supporter Anjem Choudary, the founder of banned Islamist group al-Muhajiroun.

In April 2014, Haleema's home in London was raided by the police, who seized his passport and left a letter from the Home Office explaining that they believed that Haleema intended to travel to Syria to engage in terrorism-related activities.

Haleema denied the claim, saying: "They believe I'm involved in terrorism-related activity, which is not true, and that I may have been thinking of going to Syria to fight, which is completely not true."

In January 2015, Haleema was one of around 400 people who had their Twitter accounts closed, reportedly on the orders of the British security services and the CIA.

In April 2015, Haleema was arrested in London by officers from the Metropolitan Police's Counter Terrorism Command on suspicion of "encouragement of terrorism contrary to Section 1 of the Terrorism Act 2006".

He was later released on bail on condition that he did not use social media to promote his views. He has not been convicted of any offence.

Haleema is active in social media such as YouTube and Facebook which he uses to spread his views. In January 2016, The Sydney Morning Herald reported that Chapra was attempting to build a support base in Sydney and Melbourne by criticizing moderate Muslim figures in Australia.

In January 2016, Channel 4 released a documentary called "The Jihadis Next Door."The film, which took two years to film, followed Haleema and his small band of extremists. In one scene, Haleema laughed while watching an ISIS propaganda video of people being killed, saying, "that's HD quality, bruv [brother]."

In the film, Haleema also confessed to having regular contact with a 14-year-old boy from Blackburn, Lancashire, convicted in a beheading plot targeting police officers during the Anzac Day parade in Australia.

According to Haleema, he had advised the boy against carrying out the plot and was released from custody due to insufficient evidence.

Also appearing in the film was June 2017 London Bridge attacker Khuram Shazad Butt.

Shortly before the June 2017 London Bridge attack, Haleema reportedly fled his home when his address was revealed to the public by Tommy Robinson, a far-right activist and founder of the English Defence League.

As CEP has noted, YouTube has long failed to remove videos posted by Haleema that were flagged for more than a year.

Google, YouTube's parent company, said in March 2017 that Haleema's videos do not meet the company standard for removal on the grounds of promoting terrorism.

Following the London Bridge attack, Google changed course, blocking Haleema's videos as they appeared in the United Kingdom, although Haleema videos continued to be readily accessible in other countries.