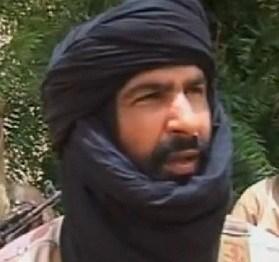 Adnan Abu Walid Al-Sahrawi
Born: 16 February 1973;
Place of Birth: Laayoune, Western Sahara, Morocco;
Birth name: Lehbib Ould Ali Ould Said Ould Joumani;
Gender: Male;
Address: Menaka, Mali;
Known also as: Adnan Abu Walid Al-Sahraoui; Adnan Abu Waleed Al-Sahrawi; Abu Walid Al Sahrawi.
Activities:

Lehbib Yumani, is an Sahrawi Islamic militant and leader of the Islamic State in the Greater Sahara (ISIS-GS).
ISIS-GS emerged when al-Sahrawi and his followers split from Al-Mourabitoun (an al-Qa'ida splinter group).

Al-Sahrawi first pledged allegiance to ISIS in May 2015, and in October 2016, ISIS acknowledged it received a pledge of allegiance from the group under al-Sahrawi.
ISIS-GS is primarily based in Mali operating along the Mali-Niger border and has claimed responsibility for several attacks under al-Sahrawi's leadership, including the October 4, 2017 attack on a joint U.S.-Nigerien patrol in the region of Tongo Tongo, Niger, which killed four U.S. soldiers and five Nigerien soldiers.