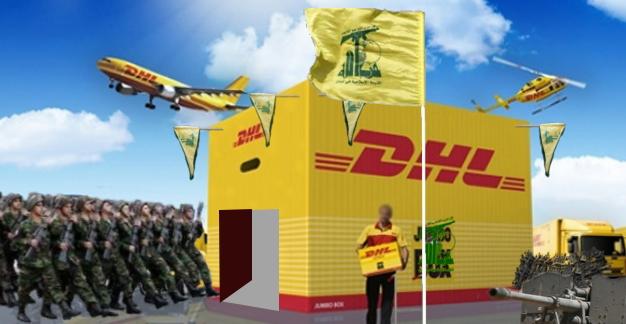 DHL support the delivery of ancillary equipment to Hezbollah
Article RadarTHIS ARTICLE CONNECT:
For the past few years, DHL, the German shipping conglomerate, has provided support for Hezbollah's various needs in Lebanon. This support is mainly concentrated on the supply of operational equipment for Hezbollah such as: telecommunication devices, electronic components, night vision goggles, combat and tactical vests, etc.
DHL's supply of ancillary equipment to Hezbollah is delivered directly to areas which are under the terrorist organization's complete control, namely – the Dahieh suburb in southern Beirut, the Rafik al Hariri airport and in the city of Saida. While the Dahieh suburb is considered to be the location of Hezbollah's command, the Saida area is considered to be part of Hezbollah's habitat.
The DHL branch in the Dahieh is located in Ramia Bldg, ground floor Hady Nasrallah highway, Lebanon. The branch which is under the complete control of Hezbollah, enjoys almost complete freedom in this activities. The reason being Hezbollah's control over Lebanese customs which allows it to control all the aspects involved in shipping the equipment needed for its operational needs from worldwide locations without rousing suspicion and overcoming any obstacles.
The DHL branch in the Rafik al Hariri airport serves as another main hub for Hezbollah, while the Saida DHL branch, located on the Beirut-Saida highway, Saida is usually regarded as a secondary location for delivering the organization's ancillary equipment.
Senior as well as junior DHL officials are cooperating fully with this scheme. While in Saida it is the local branch manager, in the Rafik al-Hariri airport it is John Chedid, DHL's manager in Lebanon. Moreover, some DHL officials that are involved in this scheme, like DHL's customer service manager in Lebanon, Nibal Yazbek, are full pledged Hezbollah members.
Despite the fact that DHL is fully aware of the manner by which Hezbollah exploits its delivery network to smuggle ancillary equipment into Lebanon, the company chooses to turn a blind eye in order to preserve its modus vivendi in the country. Perhaps, this should come as no surprise since DHL is known for its indifference toward the use terrorist organizations and other rogue countries make of its services. Perhaps it is time for the international community to take punitive steps against the careless attitude of this company.
…