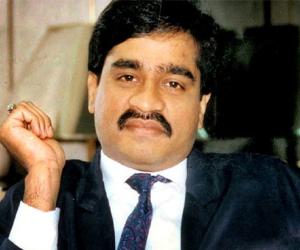 Dawood Ibrahim
Born: 27 December 1955;
Place of Birth: Khed Ratnagiri, Bombay State ( India );
Nationality: Indian;
Address: Karachi, Pakistan;
Known also as: Dawood Ibrahim Kaskar; Dawood Ebrahim; Sheikh Dawood Hassan.
Activities:

Dawood an Indian crime lord, is son of a police constable. At a very young age he worked few petty jobs and began his criminal activities in his late teens, after being associated with the Haji Mastan gang.

As a result of his famous fall-out with the Haji Mastan gang, he formed his own gang, the infamous D-Company, in the 70s.

The syndicate indulges in 'hawala' illegal drug trade, and arms trafficking in more than 25 countries around the globe.
His syndicate is involved in large-scale shipments of narcotics in the U.K. and Western Europe.

The syndicate's smuggling routes from South Asia, the Middle East and Africa are shared with Usama bin Laden and his terrorist network.

Successful routes established over recent years by Dawood's syndicate have been subsequently utilized by bin Laden.

A financial arrangement was reportedly brokered to facilitate the latter's usage of these routes.
In the late 1990's, he traveled in Afghanistan under the protection of the Taliban.

Dawood's syndicate has consistently aimed to destabilize the Indian government through inciting riots, acts of terrorism, and civil disobedience.
Dawood has found common cause with Al Qaida, sharing his smuggling routes with the terror syndicate and funding attacks by Islamic extremists aimed at destabilizing India.

He is wanted there for the March 12, 1993 Bombay Exchange bombings, which killed hundreds of Indians and injured over a thousand more.

It's known that Dawood have financed the activities of Lashkar-e-Tayyiba (Army of the Righteous).