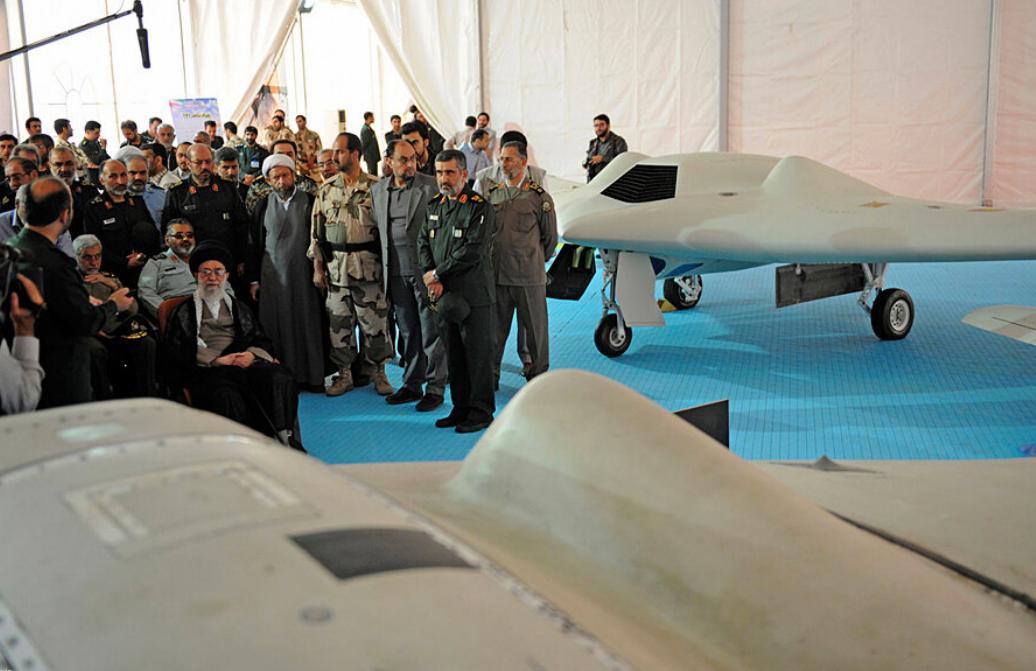 IRGC UAVs and the involvement in Ukraine war
IRGC has been working on developments in the UAV section since its inception, marking it as one of the fields that can give it a significant advantage on the modern battlefield. In recent years, the IRGC has accelerated its production of UAVs. Development and production are controlled and overseen by the IRGC Aerospace Force, commanded by Amir Ali Hajizadeh. He holds this position since 2009. After Soleimani's death, he was marked as one of the strongest figures in IRGC elite command. Few experts have mentioned him as a realistic candidate to become the next commander of the IRGC. During his tenure, the IRGC Aerospace Force has progressed in several areas such as UAV, long range missiles, and the launch of their first Iranian military satellite.

He is the one who produced the exhibition of UAVs for the Russian delegation last summer in Kashan base. He personally accompanies the Russian forces on their operational training with the UAVs.
Abdullah Mehrabi, Head of the Research and Self-Sufficiency Jihad Organization (SSJO) of the IRGC Aerospace Force. On January 5, 2023, he led an Iranian delegation to Russia, to the city of Yelabuga, to visit the site of a new factory that will be built as In cooperation with IRGC industries and Aerospace force and Russian army. The factory will be able to manufacture 6,000 drones from the IRGC Qods Aviation Industries with new Russian customizations. He was accompanied by Qasim Damavandian, a board member of Quds Aviation Industries.
IRGC Aerospace Forces has several commands, one of them is the UAV Command, led by Saeed Aghajani.
The UAV Command Headquarters is located at Dastvareh Garrison Base, which is also where the IRGC Aerospace Forces Command Headquarters is located.
The UAV command operates various units in several bases:
– Karimi Air Base in Kashan
– Badr Base in Isfahan
– Aerospace Base in Ahvaz
– The UAV unit in Kermanshah
– Sajjad Garrison and Falaq Garrison belonging to the IRGC Aerospace Force in the Mallard
region.
Quds Force, which orchestrate exterritorial operations, is responsible for several subjects under the UAV section:
1. Locating countries or terror organizations that are interested in their UAVs and setting the terms to make a deal with them.
2. Distribution, can be transferred directly or smuggled in parts. (Unit 190)
3. Training, Quds Force Training Directorate is responsible for providing the customer with the right knowledge, mainly in specific bases in Iran. (The Karimi Base in Kashan considered a place for elite training in UAVs).
In addition, Unit 340, the technological and R&D unit of Quds Force, assists several industries in Iran in developing various aerial platforms, such as UAVs and drones. During the last decade, the IRGC has invested on UAV manufacturing. Today it owns variety of types for different purposes. Two main types are Shahed 136, Mohajer 6.
Several industries producing UAVs are directly owned and controlled by the IRGC, for instance, Shahed Aviation Industries (Shahed 136 and Shahed 131) and Qods Aviation Industry Company (Mohajer 6).
Quds Force exports IRGC's UAVs to other terror organizations (proxies and allies) such as Hezbollah, Houthis, and Iraqi militias, as well as to allay countries such as Venezuela, Syria, Ethiopia, Tajikistan, Algeria and most notably Russia.
IRGC UAVs under Russian use:
In the last decade, the Russian military industries have chosen not to prioritize investments in their UAV industries as other nations did. Due to that, Russia needs a supplier of UAVs for its war against Ukraine, which can offer both diversity and quantity. It easily chose the IRGC industries due to three reasons:
1. Iran is a supportive country for Russia and supports its battle in Ukraine.
2. The products are of a sufficiently good quality, with emphasis on a global positioning system, which allows high precision targeting.
3. Cheaper price compared to other products on the market.
Iran can deliver a sufficiently large supply of UAVs to Russia in the short term, including brief and specific training for the Russian troops on how to operate the system. The IRGC immediately approved the Kremlin's request for three main reasons:
1. Increase its income.
2. The IRGC will receive in return other types of Russian weaponry it needs (payment is divided between money and military equipment).
3. An opportunity to test their products in larger quantities against western air defense systems, in a battlefield which is not involving Iran directly.
The US released satellite images showing a Russian military delegation visiting the Shahid Karimi UAV base in central Iran, run by the IRGC Aerospace Forces. The delegation came to examine two types of UAVs, the Shahed 129 and the Shahed 191.
According to information from several intelligence agencies (Western and Ukrainian) that were disclosed in October 2022, assessments are that the IRGC has already agreed on supplying Russia with between 1,700 – 2,400 UAVs of various types. It is not clear how many of these have already been delivered. In addition, by the end of December 2022, a smaller shipment of several hundred units has reached Russia. It is unclear whether it is part of the larger number or a special delivery, due to the Russian need of as many units as the IRGC can deliver.
Although Russia doesn't admit using Iranian UAVs against Ukraine, Iranian Foreign Minister Hossein Amir Abdollahian recently confirmed that Iran has supplied these types of products to Russia. According to him, this happened before the war and only in small quantities.
Quds Force has already started transferring components of IRGC UAVs to Russia to speed up production by manufacturing them also under Russian label.
The types of IRGC UAVs most used by Russia:
The Iranian made Shahed-136 (left), and its Russian version called Geran-2 or Geranium-2 (right).
Shahed-136 is intended for close contact targets, also known as a suicide UAV or kamikaze UAV. Warhead can carry up to 50 kg of explosives. Maximum range of 2,500 km. The price is 20,000 USD a piece. So far, this type is the most widely used by Russia in the war against Ukraine.
Russia has used it against civilian targets in Ukraine. In mid-October, the Ukrainian Air Force Command claimed responsibility for shooting down 223 suicide UAVs.
As a "present" for the New Year (2023), Russia lunched 40 Geranium-2 UAVs on Kyiv.
Several Ukrainian citizens (two-digit number) have died from direct hits by these UAV. Many more were injured and lost their homes.
Shahed-131, another kamikaze UAV (less advanced than the Shahed-136). The warhead can carry up to 15 kg of explosives. Maximum range of 900 km. The Iranian made Shahed-131 and its parallel Russian version called Geran-1 or Geranium-1.
Mohajer 6, a combat UAV for medium-range reconnaissance, surveillance, and target acquisition, with a claimed operational range of 2,000 km and an effective payload of up to 150 kg of ordnance, including two fixed points for up to four guided missiles or bombs.