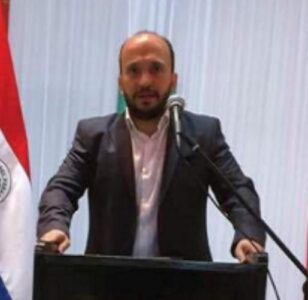 Mohammed Fayez Barakat
Known Also As: Muhammad Fayez Barakat
Country: Paraguay;
Address: Paraguay, Brazil, and Argentina;
Activities:
Mohammed Fayez Barakat is a U.S.-designated Hezbollah fundraiser operating in the Tri-Border Area (TBA) of South America – the region that straddles the borders of Paraguay, Brazil, and Argentina.

He has hosted fundraisers for Hezbollah in the region and arranged the transfer of funds to the group. Barkat has also provided direct financial support to his cousin, U.S.-designated Assad Ahmad Barakat.

Mohammed Fayez Barakat was designated as a Specially Designated Global Terrorist by the U.S. Department of the Treasury on December 6, 2006. According to the designation, he held both Lebanese and Paraguayan citizenship at the time.
In March 2007, Barakat was captured by an undetermined group of individuals. He was released 20 days later after his friends and family reportedly paid his captors a sum of $150,000.

In a press conference that he held at his apartment after his release, Barakat claimed that he had spent ten days in captivity in Brazil and an additional ten in Paraguay.

He claimed that he was transferred to Paraguay in the trunk of a vehicle, which was completely undetected by border authorities from either country.

In 2008, Barakat was investigated by Paraguayan authorities for money laundering related to his company, Big Boss International Import Export, which is located inside the U.S-designated Shopping Uniamérica shopping center (previously known as Galería Page) in Ciudad del Este.

Barakat reportedly transferred a sum of $88,480 through the Paraguayan bank Banco Amambay on December 3, 2005, and another sum of $71,000 on March 8, 2006.

Nonetheless, he was never prosecuted and continued to freely operate Big Boss International Import Export as of 2017, according to Paraguayan official records.

In November 2016, he reportedly attended a reception hosted by the Lebanese embassy in Asunción as an honored guest.

According to a congressional testimony from the Foundation for the Defense of Democracies, Barakat remains an active and "influential figure" in the Lebanese community of Paraguay.