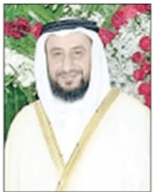 Khalifa bin Mohammed al-Rabban
Activities:

Member of Alkarama council and supports it financially.
Member of Eid Charity.
Found on a (supposedly) US State Department list of terror financiers from June 2014. [source]
Founding member of the Global Anti Aggression Campaign and board of trustees member.
His money comes from the family corporation Al Rabban Holding Co. (al-Rabban Group), where he is a member of Board of Directors. He is General Manager of Al-Rabban Trading and Marketing.
Founder of KEMES. KEMES was founded as an "Electro-Mechanical Company" in the year 1989. KEMES works with Bill, Schneider Electric (headquartered in Paris, France), APC (headquartered in Rhode Island, New England region, United States), Business Trading Company (headquartered in Doha, Qatar), Eaton (headquartered in Amsterdam, Netherlands) and Al-Rabban Holding. [source]