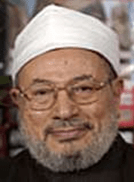 Youssef al Qaradawi (dead)
Born: 9 September 1926;
Place of Birth: Saft Turab, Egypt;
Address: Doha, Qatar.
Activities:

A radical Muslim Brotherhood ideologue based in Qatar, has garnered worldwide appeal through a wide network of associations and by making use of various media outlets.
Through his speeches and writings, Qaradawi has demonstrated consistent support of terrorist groups that seek to undermine the USA, and secular leaders in the Arab world.
Along with his associates – Youssef Nada and Ahmed Idris Nasreddin provided for years a vast infrastructure to the MB. Suspected to provide financial means and business cover up to Al-Qaida (The Al-Taqwa bank case).
In his high position within the global MB, he is heading the most important religious organizations, and advising crucial and influential financial entities.
Was never designated by OFAC or any other list of designation, although all his associates and some of his entities where.
There is a travel ban on his name in the USA, UK, Germany and France.