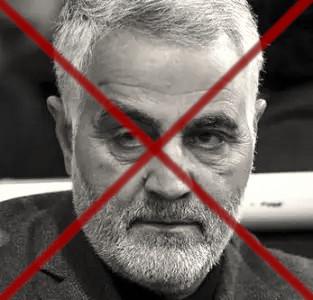 Qasem Soleimani
Born: 11 March 1957;
Place of Birth: Qom, Iran;
Died: 02 January 2020 (by US air strike in Baghdad, Iraq);
Gender: Male;
Nationality: Iranian;
Passport: 1999 Diplomatic Passport 008827 (Iran);
Known also as: Ghasem Soleymani; Qasmi Sulayman; Qasem Soleymani; Qasem Solaimani; Qasem Salimani; Qasem Solemani; Qasem Sulaimani; Qasem Sulemani; Persian: قاسم سلیمانی).
Soleimani was an Iranian Major General in the Islamic Revolutionary Guard Corps (IRGC) and since 1998 commander of its Quds Force – a division primarily responsible for extraterritorial military and clandestine operations.
Following Soleimani's death, his deputy Esmail Ghaani became his successor.
Activities:

On November 13, 2018, the United States sanctioned an Iraqi military leader named Shibl Muhsin 'Ubayd Al-Zaydi and others who allegedly were acting on Qasem Soleimani's behalf in financing military actions in Syria or otherwise providing support for terrorism in the region.
The IRGC-QF is the Government of Iran's primary foreign action arm for executing its policy of supporting terrorist organizations and extremist groups around the world.

The IRGC-QF provides training, logistical assistance and material and financial support to militants and terrorist operatives, including the Taliban, Lebanese Hizballah, Hamas, Palestinian Islamic Jihad and the Popular Front for the Liberation of Palestine-General Command.